Bio: A Little Bit About Me
My graphics background covers attending various art classes and schools. I've freelanced and worked in the art department of a few different companies. I've also worked and continue to work on commission projects.
"Local Laughs" an original single panel gag cartoon I created saw publication in a national magazine (The UA Journal). It ran monthly for over a year.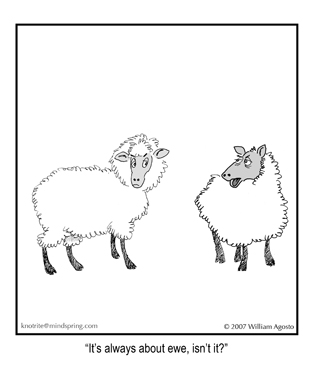 "Knot Rite" is another one of my original cartoon creations. Samples of it can be seen throughout this website. One of my "Knot Rite" cartoons was seen in the March 2008 issue of Lighthouse Digest.
Beginning in the spring of 2010 cgmagazine (Celebrating Greyhounds) began carrying my "Knot Rite" cartoon. While my writing covers a wide range of subjects, for cgmagazine I provide gags that are specific to just the greyhound breed.
The July 2010 issue of Rhode Island Monthly ran an article about me and my cartooning. As a result of that article Westerly's local paper have decided to run my Knot Rite cartoon on Saturdays. The cartoon was introduced to their readers on October 23, 2010 with the publishing of the first one. I'm looking forward to what I hope will be a long run for Knot Rite in our local paper; The Westerly Sun.
Freelanced, worked for or created commissioned work for the following: Axial Computer Resources, Firebird Internet Consultants, NECA, The Flintlock Room, ChesterNJ, Shanachie, Mystic Dental Group, HireKnowledge, Duffy & Shanley, Amica Insurance, Infinity Interactive, Inc., Nail Images, UMS Group, Massachusetts Dental Assistants Association, . . . and more.

I recently attended the University of Rhode Island to learn or expand my abilities with Adobe Creative Suite. (Photoshop, InDesign, Illustrator, Dreamweaver, Flash, Acrobat etc.) I received a certificate for this course in June of 2011.